TEAM SOUTH AFRICA 2017 Results:
Sweden is World Champion 2017 - Team South Africa finished 14th, Team Zimbabwe finished 23rd.
TEAM SA 2017 ANNOUNCED
Team South Africa was announced at the finals of the South African Wine Tasting Championship Finals at The Taj Hotel on Sunday 2 July 2017
Top marks went to National Champion Anita Streicher-Nel for the best score of the finals, which was significantly high. Anita will also captain the team again (this is her 3rd time in Team SA and 2nd year as captain). Next up was Anton Swarts - recent Cape Wine Master graduate, then Jeanri-Tine van Zyl, and the reserve position went to Nkulu Mkhwazani.

Jean-Vincent was most impressed by their scores, being much higher than the 2016 which Team SA achieved in France.
Jolette Steyn is also in Team SA for 2017 - and she already has a place by virtue of her marks being the best of both Provincial legs of the competition.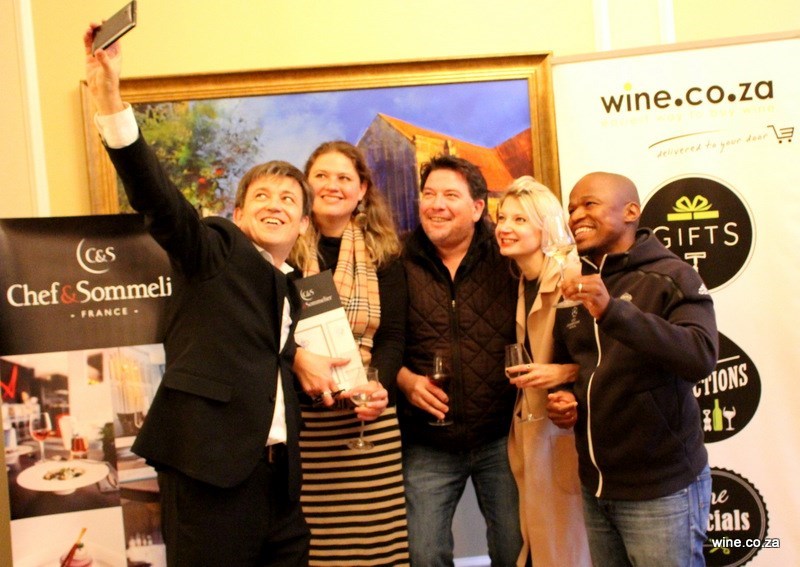 Classic selfie with Jean Vincent Ridon, Anita Streicher-Nel, Anton Swarts, Jeanri-Tine van Zyl and Nkulu Mkhwazan
MORE ABOUT TEAM SA
The 2017 SA National Champion, Anita Streicher-Nel, recently joined Anthonij Rupert Wines in their marketing department, having spent the last few years at Morgenhof. She has an incredible palate and skill for identifying the right wines and will be a great captain again this year!
Anton Swarts, is the first ever Cape Wine Master to make it to Team SA, and he is one of the Spier winemakers. This will be Anton's second trip - as he represented South Africa in 2014, before he achieved is CWM.
Jeanri-Tine van Zyl, well-known writer, PR and Communications personality in the wine industry, was very nervous at the finals, and then could not withhold her excitement as her name was announced for Team SA!
Nkulu Mkhwazani, from Joburg, entered for the first time this year. He works for Reciprocal and also represents a few wine brands in the Gauteng area. For now, he will be the reserve in the team.
The eleven finalists included a broad spectrum of people, crossing professions, colour, gender and experience!.
Media24 journalist Samarie Smith was one of the Cape Town finalists and represented South Africa before.
Francois Cillie is a regular participant in the competition and done very well over the years. Francois is also a recent Cape Wine Master graduate,
Eric Botha, the Gauteng Provincial Champion, is originally from De Aar, and working as a sommelier at a Jazz Lounge in Johannesburg.
There were two non-wine industry people, Katie Truscott, a Canadian currently living in Joburg and runs her own marketing business, andEdwina Frantz, a Systems Analyst from Cape Town. Both are passionate wine lovers and doing a few wine courses to keep their taste buds up to date!
Gosia Podgorska is a young marketer and blogger, currently working at Fairview and writes for Glou-Glou.
There was a young recent graduate from the Pinotage Youth Development Academy (PYDA) - Avuyile Maqolo, who surprised everyone by making the cut for the finals. He obviously has a good palate memory to make it this far, but has not had much exposure to International wines as yet. Avuyile lives in Paarl and very keen to find work on a winery - so if anyone is looking for an enthusiastic wine ambassador - Avuyile is your man!
Thanks to Chef & Sommelier for sponsoring the beautiful drip-free decanters for Team SA and for the glasses used at the finals.

wine.co.za continues to be a media partner and proud supporter of the SAWTC.
Africa will be represented by two teams this year at the World Blind Wine Tasting Champs in France, as we have Team Zim - consisting of Joseph Tongai, Tinashe Nyamoduka, Marlvin Gwese and Pardon Tuguzu, and now Team SA - both of whom will be escorted through France by Jean Vincent Ridon - tour guide and educator of note!
Good luck to both teams - Team SA and Team Zim!
WHO ARE THE TOP TASTERS IN SOUTH AFRICA?
Wine tasting is a gift. The SAWTC is calling for talents around the country. Who will be our best South African wine tasters this year?
PUT YOUR TASTE TO THE TEST!
A small percentage of the population has a predisposition and enjoys a very accurate palate memory! These talents, once recognised and trained they can be the Robert Parker, or the Jancis Robinson of tomorrow.
The Concept
The South African Wine Tasting Championship is a public event calling for all talents to test their abilities at tasting wines. Wine lovers will finally be the center of a wine event.
The SAWTC will aim at two goals:

- Recognise and Award the Top Wine tasters in South Africa
- Select Team South Africa going to the World Blind Tasting Challenge
In the spirit of ongoing education, and in an attempt to encourage new converts into the closed circle that is the wine world, the SAWTC offers all wine lovers the chance to put their talents to the test. .
Calendar 2017
- GAUTENG SAWTC was on the 17th May 2017 at the Standard Bank Juliet Cullinan Wine Festival in Hyde Park. Eric Botha is Gauteng Champion
- WESTERN CAPE SAWTC was on the 3rd June 2017 at the Taj Cape Town, Jolette Steyn is Cape Provincial champion.
- NATIONAL FINALS SAWTC was on the 2nd July 2017 at the Taj Cape Town. Anita Streicher-Nel is national champion.
- WORLD CHAMPIONSHIP was on 14th October 2017 at Boisset in Burgundy. Team SA finished 14th.
Our Twitter account is @SAWineChamp
After South Africa ranked 14th nation of the world in 2017, will team 2018 reach the podium?
All the updates can be found on our media partner wine.co.za